We Believe in a Straightforward Digital Transformation.
We capitalize on more than 15 years of being an OutSystems Partner, with experience in high-end software solutions and products, successful international OutSystems (and other) project delivery, and a solid academic foundation. Theros continues to challenge the status quo and to contribute to the OutSystems world with more than 200 certified developers.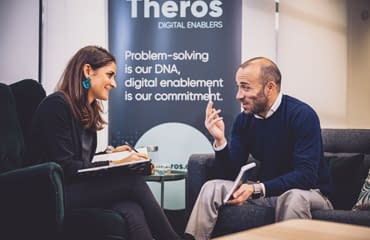 Client Engagement
We believe in the power of trust when partnering with our clients. Highly engaged partners will perform better and transform more smoothly, as is the purpose of an OutSystems environment.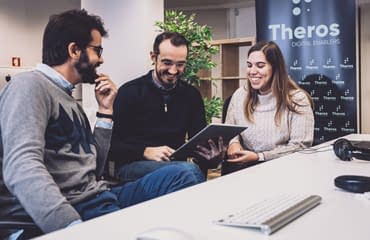 Talented People
Here at Theros, talent means more than a set of skills; motivations and preferences for when, where, and how we work are treated with respect.
A Global Digital Transformer
Theros was born to provide digital solutions to the market,
enabling real competitive advantages through agile innovative solutions.
What We Do
Agile development, Low code, Digital enablement, and more...
Solving Business challenges
Creating Human-centric solutions is the goal. We always operate with responsible Architecture Engineering and UX/UI Design practices as cornerstones of successful project delivery.
Managed Services
We will take over the responsibility to manage a certain stack of OutSystems applications, their full life cycle, and user support, enabling you to benefit from predictable pricing and focus on core business concerns rather than IT management chores.
Nearshore / Offshore
In order to take advantage not only of our team's skill set but also of our methodologies and OutSystems software factory development, Theros enables you through this business model to have access to different developers' profiles with all the advantages of having a team based in Portugal.
Innovation
Innovation is the path that leads us to the future, and this is our everyday goal. Let us challenge you with new ideas, you challenge us with yours, and we can collaborate as part of the future of digital transformation.
Outsourcing
Because your applications and technology stack are not black or white, they are always evolving and one must adapt to the challenges ahead. Our outsourcing team will take good care of you.
We choose the right combination of methodology, architecture, experience design, technology, and governance to support rapid innovation. Our cross-functional teams are skilled in:
What We Value
Our solutions are guided and informed by our beliefs and commitments to these key values:
Inclusiveness
Respect people, value diversity, and commit to equality.
Social Citizenship
Belief in contributing to local communities and society as a whole through volunteering and support of relevant initiatives.
Passion
Passion is at the heart of our company. We are continuously moving forward, innovating, and improving.
Openness
Commitment to a culture of teamwork and collaboration.
Human-centric
Emotion, proximity, and empathy will always be in the foreground of our endeavors.